---
Posted by Jeremy Padlock income.
Nov 11, 2014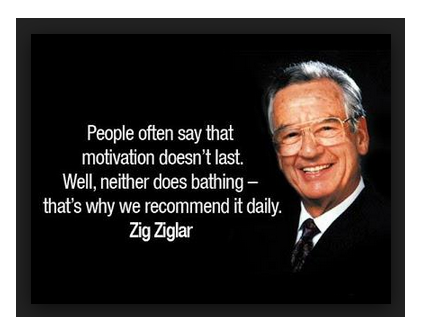 I was catching up on some reading recently and came across an unusual quote (unusual for me anyway), from Zig Ziglar...

He said "Anything worth doing is worth doing poorly until you can learn to do it well."

To be honest I was a bit tired, so I had to do a double take when I first read that... Do things poorly ?

And then I saw it - it dawned on me. This is probably the Number 1 Business Lesson I could ever learn AND pass on to anyone else prepared to listen !!
Doing something.... matters more than knowing about something
For decades I've probably wasted far too much time dithering, perfecting, learning, understanding, practicing.... and all of this time I've been Dead wrong.

And the same has been true of my business dealings, I've been waiting for perfection before building. What I should have been doing is building while creating perfection.

I'm quite lucky as I read lots of business books, and over the years I've been able to develop myself and my businesses through applying what I read. The issue with that (for me), is that I've been trying to apply perfection, where I should have been just applying... and practicing perfection :-)

So whilst I'm not perfect, AND I'm definately no Tony Robbins or Eric Thomas, when it comes to self development. I know that the Zig Ziglar quote has set me free from the personal constraints I've imposed on myself.

So, learn this simple yet powerful lesson from me today... and start applying it NOW !!

Use what you learn as soon as you learn it AND be willing to fail forward.

So how does this apply to us, Internet Marketers today ?

Well, rather than hunting for some new time management "system" or "replicated blogging plugin that will automate everything". I believe most people would be better off doing the things that are time proven and effective.

In the online business world that includes things like …
Building landing pages and squeeze pages,

Blogging,

Writing articles,

Creating products,

Promoting top products,

Answering comments on your blog,

Participating in discussions in your niche,

Running ads (free and paid),

Writing great headlines and ad copy.
The information we need is out there. Our job is to apply that information and to be willing to fall down and then get back up. Over and over again.

Let me leave you with these 4 books to consider.... and a very important question.

First, the books.
The Power Of Positive Thinking.
How To Win Friends And Influence People.
Think And Grow Rich.
See You At The Top.

Now to that question – what would your life look like if you read these four books and faithfully practiced everything they teach for the next year?

AND for those times when the spirit is willing, but the flesh is weak.... then inject a bit of The Hip Hop Preacher into your daily routine.
​
I'd love to hear your thoughts in the comments below.

Until next time,


---
---